GST E-way bills are really important documents for the transporters that are needed before shipping goods exceeding the worth of INR 50,000 within state or interstate. You require to upload the transportation reports which comprises the details of goods and vehicle number to file GST E-Way Bill.
While filing GST E-Way Bill, either you need to fill the Details,
For Saving our time; GST E-Way Bill in quick and easy steps. Hence, this GST E-Way Bill module can help you to make the process quick and easy.
In the way to reduce your manual efforts, Odoo GST E-Way Bill is introduced to you. The module facilitates you to generate your JSON for the details easily as well as quickly.
Suppose if you are sending the two or more loads in the same location then in this case you can take the load in a single vehicle. The module lets you add the E-way bill number and easily consolidate them.
Next thing that is really important for a business is managing the issues faced without much complication. Hence, due to any reason (like vehicle damage, expired insurance life, etc) you may need to change the vehicle. So, the module helps you update the vehicle number in the GST E-Way Bill.
Detailed Features List
Generate JSON for GST E-Way Bill:
Generate GST E-Way Bill from the odoo Invoice.
Manage Multiple transporters:
You can create Areas and Pin Codes & Distance in Odoo which help to prepare E-Way Bills.
You can create multiple transporters in Odoo which help to prepare E-Way Bills.
Track the source location of the transporter easily.
Manage E-Way Bill Consolidation Easily
You can easily consolidate e-way bills in Odoo.
Simply select the E-Way Bill Number and consolidate them.
Manage the E-Way Bill Orders
For tracking E-Way Bill Reports available in Odoo.
An E-Way Bill tab to help you to get all buttons for E-Way Bill generation.
For Cancellation of E-Way Bill also Available and Details we can in see in Eway Tab.
Bulk action to generate JSON for vehicle-no updation in E-Way bill portal.
Manage E-Way bill source location and Destination Location
Easy Way to update Vehicle Number
You can cancel eway bill for every order using the "Cancel E-Way" button.
You simply need to add the reason for cancelling.
Cancellation history is available in the E-Way Module Reports section.
Create E-Way Bills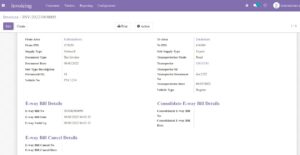 Consolidated E-way Bill Orders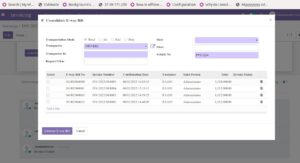 Cancel E-Way Bill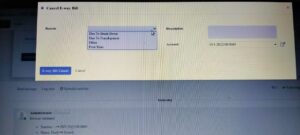 To use this Module Click here